The Funnel Principle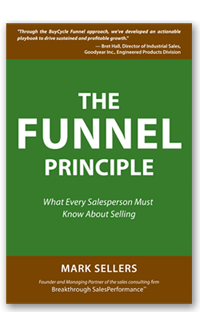 What Industry Leaders Are Saying About The Funnel Principle
Adam Killam
There's two things I immediately liked about The Funnel Principle, a sales book I recently read by international sales consultant and expert Mark Sellers:
1. I could begin using many of the concepts immediately
2. I could apply many of the new concepts using our existing CRM: Salesforce.com
To simply say I enjoyed Mark's book would be an understatement. Frankly I couldn't put it down and afterwards, I went through it, jotted down all the major points and began working on implementing his ideas into our own funnel - the ideas are practical enough that in most cases you can begin using them right away. One of the key questions The Funnel Principle continually gets the reader to ask himself is the fundamental question: "What's my funnel's ability right now to close enough business to hit my quota?" One of the main points of the book is that in order to properly answer this question (upon which your sales success rests), you need accurate insight into the value of your funnel at any given point in time. The problem is that the traditional methods of funnel valuation come up short and produce unrealistic measurements for sales people and managers.

The Funnel Principle is one of those books that should be in every top performer's library. Ideally sales people will read it and combine the new way of valuing and managing their funnels with a proven sales process for maximum effect.

Thanks for the wisdom and for a great read Mark!
William Holehouse
Until The Funnel Principle was produced, managing a sales funnel has always been more of an art than a science. Sales people by their very nature are positive individuals who have an optimistic outlook on their sales funnel and what they can close. They view their funnel and how they will make their quota based on their perspective and activities they have performed. The Funnel Principle gives tremendous insight into the activities of the buyer and where they are in their buying process. For example, has the customer expressed growth, pain or trouble? Has the customer budgeted or obtained funding for the project? Utilizing the BuyCycle Funnel(tm) allows one to better manage their time, activities and analysis of their funnel, to plan accordingly and ultimately become a more consistent producer.
Robin B. Leonard
Mark Sellers has done an excellent job of redesigning the traditional sales funnel to capturing how clients really buy with the BuyCycle Funnel. His extensive experience in sales process management is obvious throughout the book. Using his easy to follow approach for implementing the BuyCycle Funnel, I am confident salespeople of all levels will more effectively and efficiently achieve their sales goals.
Martin Schmalenbach
In this book Mark puts forward, in clear terms, a simple concept: match your selling activities to the buying and decision process of your customers. I know many sales people who say they already do this. In my experience they don't - they only think they do. Why is this? Because doing this is not as easy and as quick as saying it!
When you match your sales activities to the customer's buying & decision making processes you get significantly increased chance of sales success plus you get this in a much more efficient way. Mark explains clearly how this works & why. To do this you have to change the focus and emphasis of your sales funnel - so it becomes more of a 'buy' funnel. This sounds trivial to do, and it's not!
So Mark helps out with this too - in his book he sets out, again very clearly, not just the 'what' to do, but also the 'why' do it, and as much as possible, the 'how' to do it. Ultimately each sales organisation will have to create its own, unique, 'buy' funnel.

I came across Mark and his book at the end of 2008. I started working closely with Mark and his material about 5 months later. I have some responsibility for a multi-cultural and internally-based sales operation. Mark clearly knows his stuff - this is not theoretical, it's totally practical. So dealing with the inevitable and unexpected challenges was easier than I hoped as we implemented this approach.

The language and concepts in Mark's book have become every day language in our sales force, and as a result our sales people are beginning to approach each individual sales opportunity with even greater clarity and focus. We're beginning to see positive results.
Short of actually working with Mark, buying his book and putting it in to practice as much as you can is truly the next best thing you can do to raise the game of your sales force.
Does this book have relevance if your sales force is already hugely successful? Absolutely! The company I work for is the leader in revenue terms in its field, and has been for over 5 years. Implementing The Funnel Principle is a critical part of our strategy for staying in the Number 1 slot in future.
I've been selling stuff since 1993, and all I can say is, I wish I'd had Mark's book back then!
Tips to Breakthrough
Sign up to receive sales tips, offers and other resources to help you achieve your sales quota.
Join Our Mailing List