Sales Training, Coaching and Consulting Services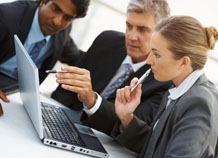 Breakthrough provides comprehensive sales training, coaching and consulting services that will help you qualify faster and better, win more deals, and build a better sales pipeline.
Our services are used by companies around the world. Learn more below.
Sales Genomix
People, pipeline, performance. If you're a new VP of Sales or even new CEO can there be any other higher priorities? We can help you make sure you have 'the right people on the bus' and 'in the right seats' with our Sales Genomix partner services. Proven effective with over 500,000 executives.
Funnel Principle Selling™
We have the industry's best end-to-end solution to making sales training stick. Our unique Funnel Principle Selling™ is the closest thing you will get to a guaranteed high return on your training investment.
Keynotes & Sales Meetings
Motivate your sales team. Learn tips and techniques to make your salespeople more effective. Mark Sellers can teach you how.
Funnel IQ™
Improving sales performance begins by assessing what's working and what's not. Funnel IQ is a powerful assessment of how well your company manages its sales funnel and strategizes for deals.
More Solutions
What's Your Funnel IQ?
Don't let what you don't know about your customers keep you from reaching your objectives.
Watch The Video